The Boise Church of Christ is searching for a minister! After many years in Boise, our current minister has decided to move out of state to be closer to family. We'll miss his Biblical and practical teaching, genuine relationships, and commitment to Jesus. We may or may not miss his corny wit. 😬
Key Responsibilities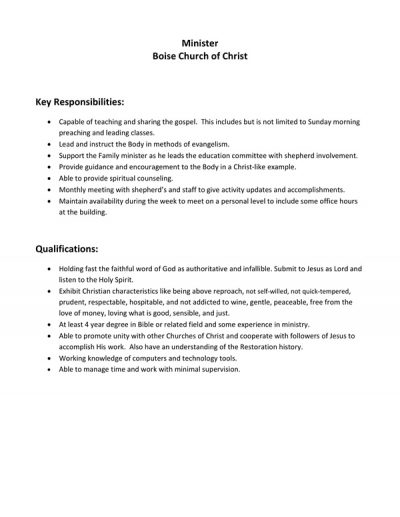 Capable of teaching and sharing the gospel. This includes but is not limited to Sunday morning preaching and leading classes.
Lead and instruct the Body in methods of evangelism.
Support the Family minister as he leads the education committee with shepherd involvement.
Provide guidance and encouragement to the Body in a Christ-like example.
Able to provide spiritual counseling.
Monthly meeting with shepherds and staff to give activity updates and accomplishments.
Maintain availability during the week to meet on a personal level to include some office hours at the building.
Qualifications
Holding fast the faithful word of God as authoritative and infallible. Submit to Jesus as Lord and listen to the Holy Spirit.
Exhibit Christian characteristics like being above reproach, not self-willed, not quick-tempered, prudent, respectable, hospitable, and not addicted to wine, gentle, peaceable, free from the love of money, loving what is good, sensible, and just.
At least 4 year degree in Bible or related field and some experience in ministry.
Able to promote unity with other Churches of Christ and cooperate with followers of Jesus to accomplish His work. Also have an understanding of the Restoration history.
Working knowledge of computers and technology tools.
Able to manage time and work with minimal supervision.
To apply, please send a resume and cover letter to: cstevens97@yahoo.com.