FAITH OF OUR FATHERS (MOTHERS)
 Since last summer, we have been celebrating our 65th anniversary in this area, culminating in this homecoming service today. The Boise Church of Christ actually came into being in the Spring of 1940 (established by two women meeting in their homes 83 years ago). The church grew to around 240 by 1956 and built this building in 1957. The first service in the new building occurred July 28, 1957.  Below is an excerpt from the following week's bulletin, dated August 4, 1957:
God has blessed us beyond measure and we should be so thankful and appreciative of our fine new building. Let us make it only the beginning and with love and zeal filling our hearts, let us push onward toward the mark of the high calling. Brethren, we've just begun. There are no limits.  If God be with us, who can be against us.
 Our opening day in the new building was an inspiring one with a morning attendance of 427 and approximately 350 at the evening service, to hear the wonderful messages brought to us by Bro George Benson, President of Harding College, Searcy Ark., and Brother Batsel Barret Baxter, of Nashville, Tenn.  It was a privilege to have such able men come and be with us in our efforts….
 Now we would like to voice our deep felt appreciation to the building committee who spent so many hours working and planning and carrying out those plans so that the building is the fine accommodating thing that it is.  And next, to the women who spent so many hours in hard work. We believe it was all the work of love and our building as it is would not have been possible without Your help. There were many more who gave their time and their money and we would like to thank each and every one for the efforts that have been put forth.
 Brother John York arrived this week to start his work with us here. Let us welcome him and his family, and encourage his efforts with our willing cooperation….
Do you believe in the providence of God? Let's put our trust in God, nothing wavering and give him the glory.
 The Elders (Ivan Harris, Harvey Evans, Dallas Harris, Paul Swearingen, Hale Miller, Orie Henson, and Leo Smith) – Dated August 4, 1957
We have a proud legacy. Let's continue to carry it out in ministry to the souls in this area.
—   Joey
WELCOME SPEAKER,
KEVIN HOOPER!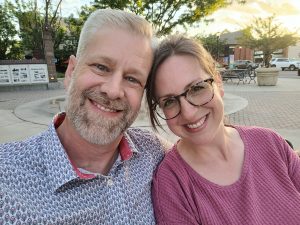 What happens when you put a small-town conservative Church of Christ boy with an urban-raised Pentecostal girl?  You get Kevin and Elise Hooper!  They met through the BSU Campus Ministry of the Boise Church of Christ in 1996 and were married on July 5, 1997.  They have seven children: Corban (23), Micah (21), Eliana (17), Gideon (14), Evangeline (10), Everly (6), and Emeline (3).  Their first daughter-in-law, Natalie, joined them by marrying Corban in September 2019.
They are in full-time ministry with the Midvale and Weiser Churches of Christ; two small, rural congregations about twenty miles apart in western Idaho. On December 31st, Kevin marked 25 years in full-time ministry, which has included youth ministry with the Boise Church of Christ, and associate ministry with the Cross Tower Church of Christ in West Jordan, Utah. They have been in rural Idaho since 2011. Kevin holds a BA in Christian Ministry through Austin Graduate School of Theology, sings with a community choir, and serves as Vice President on the board of directors for Love, INC of Washington County.  Elise home educates their children, which is a full-time job she has been committed to for 19 years.
Kevin enjoys hiking, basketball, reading, hunting for and harvesting firewood, watching movies, and listening to Mike Rowe tell stories. Elise loves to read, write, cook, sew, make her home beautiful, and teach her children.